Dental Implants in Canoga Park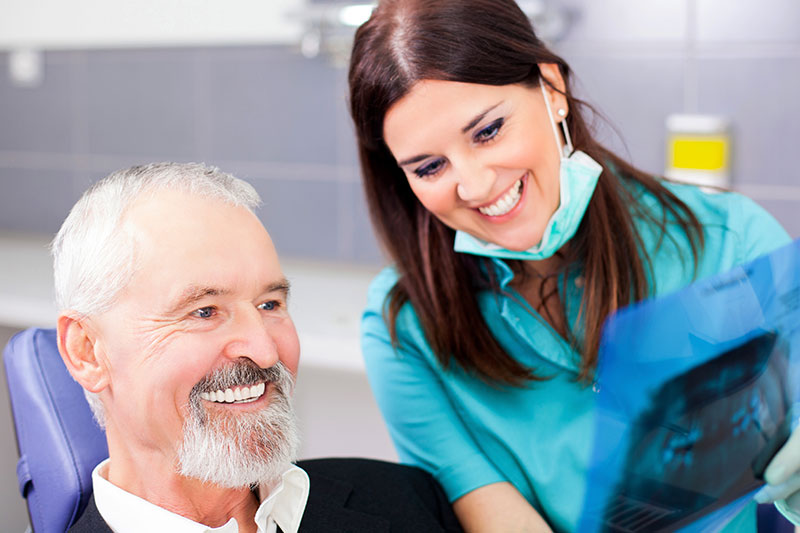 Dental implants are used for individuals who have missing teeth either from decay or removal. They can be used to replace one missing tooth or even a whole row of teeth for an entire jaw. They are primarily used for patients who want a permanent solution for missing teeth and have no issues with healing. They are a great alternative to removable dentures, providing more stability and better functionality. The process for getting dental implants could take anywhere between 30 minutes to a few hours depending on each case.
During the first visit, we will take pictures, X-rays, and if necessary, order CT scans in order to evaluate the condition of your jaw structure and plan for the procedure. Before the first surgery, we will look at the best way to fit prosthetic teeth or dentures in order to improve aesthetics while maximizing your biting function.
During the first surgery metal rods will be implanted into the jaw. This part of the procedure is permanent and requires skill to prevent unnecessary complications. It should only be done by an experienced dentist like Dr. Vorperian or specialist. A few days after surgery, you will come back to the office to have the stitches removed. After this, you will have to wait for your bones to grow around the rods, securing them in place. It will take several months to heal and for the rods to bond with your jaw bone before the second surgery.
A few months later, if the rods have bonded properly to the bone, gum will be cut open to remove the protective screws which will be replaced with healing caps. When this is complete and healed, the denture, bridge, or crown will be made to fit into the rods and between the existing teeth in your jaw line. After each surgery, avoid brushing the affected areas and instead use a gentle antibiotic rinse to keep your mouth clean. Finally, when the bridge, denture, or prosthetic is created and ready, they will be fitted to the implants. Dr. Vorperian will take the time to measure how well they fit, cutting them down and polishing them to achieve a natural clean appearance.
The overall dental implant procedure is long and requires intensive planning, but the benefits of dental implants are long lasting and the most effective of all alternatives. After completing treatment for your implants, with proper care and good oral hygiene, you can expect to enjoy your new implants for a long time before any maintenance is needed. Dental implants provide the most permanent solution for missing teeth with the most functionality of any of restorative option. Aside from the great health benefits, dental implants help restore the aesthetics of a full smile and allows for prosthetics or dentures that look as natural as your original teeth. If you are interested in dental implants call our office with any questions you have or schedule an appointment. During your appointment, Dr. Vorperian will take a look at your dental situation and go over insurance coverage for the procedure.